Sediko M10
The automatic erythrocyte sedimentation rate analyser
The automatic erythrocyte sedimentation rate analyser (SR) SEDIKO M-10 (Cat. No. 3.03.9.1) will facilitate the work of the laboratory personnel, and the test results will be even more precise.
You only need to insert the ready-made pipettes into the analyser, the subsequent process will take place automatically. The compatibility with the Westergreen procedure is ensured: after a period of 1 hour the device will check the height of the column, and you can read the results thus obtained even later.
10 measuring places (slots) of the analyser allow for the same number of independent SR tests.
For automatic operation use only the ungraduated pipettes VACUPETA-SEDIKO 3.03.1.7.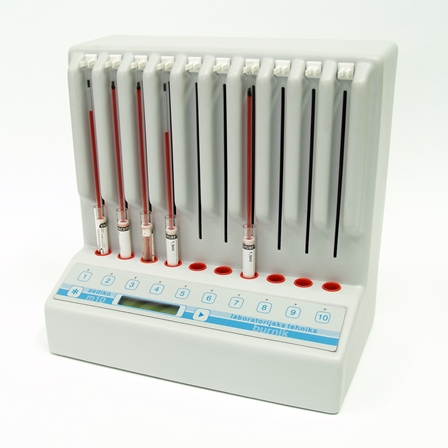 Technical specifications
procedure:
a modified erythrocyte sedimentation rate measuring procedure according to Westergreen
performance:
up to 10 independent test runs simultaneously
measuring range:
duration:
dimensions:
310 (W) × 190 (L) × 320 (H) mm
power supply
operating supplies:
one-way pipette VACUPETA - SEDIKO (ungraduated, automatic pipetting, automatic zero-value setting, suitable for majority of test tubes for vacuum blood collection for ESR with dimensions of 75 × 13 mm)
accessories:
serial matrix printer
serial RS-232 interface for optional software for PC on request
| Cat. No. | Description | Remark |
| --- | --- | --- |
| 3.03.9.1 | SEDIKO M10 | automatic ESR analyser |
| 3.03.1.7 | VACUPETA pipette non-graduated | for automatic ESR analyser |
| 4.03.1.3 | VACUTUBE ESR 4NC | corresponding vacuum blood collection tube |