Microset
Arterial blood collecting instrument providing acid-base equilibrium
Intended use:
MICROSET is kit for arterial blood sample collection. It is designed for determinate the acid-base status of a patient. Kit can also be used for measurement electrolytes and metabolites parameters.
Product description:
MICROSET sampler is made of plastic and contains plastic capillary tubes. Plastic capillary tubes are coated with a thin layer of lithium heparine (50 I.U./ml) from the inside to efficiently prevent blood clotting. The stability of the sample is good and there is no sample dilution due to use of solid heparine. The capillary tubes that are contained within MICROSET sampler are made of plastic material. Thus, the anticoagulant efficiency is improved, erythrocyte separation from plasma is reduced, and sample spills due to capillary breakage are prevented.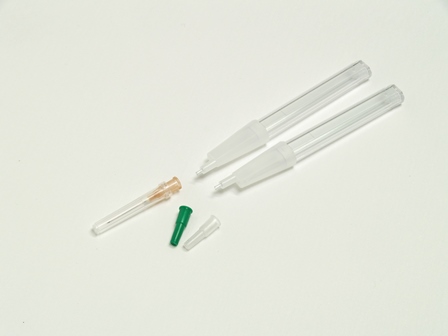 Kit contains sampler, needles, green caps to prevent exchanging gas level during storage and plastic filters. The filter (clot catcher) is to be attached to the MICROSET sampler after the sample has been taken, to prevent potential blood clots entering the analyzer.
Syringe or vacuum tube manipulation is not required, therefore sample aspiration and bubble formation is prevented. There are minimum blood sample requirements (only 220 μl).
There is a possibility to place a label with patient name on the body of the sampler or it is possible to write on the body with water resistant pencil.
The procedure is easy for the physician and painless for the patient.
Package contains:
100 x MICROSET
100 x needle 26G×23
100 x clot catching filters
100 x green caps
instructions for use
Order information
| Cat. no. | Product | Packaging |
| --- | --- | --- |
| 7.01.1.5 | MICROSET kit with needle and filter (non-sterile) | à 100 pcs |